Welcome to T2K.
Tumbarumba2Kokoda is an initiative of the Rotary Club of Tumbarumba that involves Tumbarumba
High School

students trekking the Kokoda Track.
Our 2017 Group have begun fundraising and preparing for their trip in April 2017.
The community group who travelled to PNG during April 2016 had a safe and rewarding trip.
We are continuing to support the Education Program at Abuari through The Kokoda Track Foundation.
Click here to find out more about The Kokoda Track Foundation.
We are the recipient of NSW Government Anzac Community Youth Grant.
This site updated October 10 2016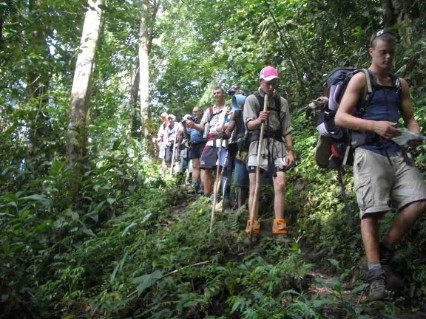 What we Do?
The Tumbarumba 2 Kokoda Trek is organised by a group of volunteers who willingly give their time, energy and support to ensure the local youth are able to experience this once-in-a-lifetime opportunity.
The project has been operating since the middle of 2006 and since its inception 81 students have completed the trek.
The student's are responsible for fundraising to assist with off-setting the cost of the trip, they become involved in community activities and undertake a rigorous training program which runs for over six months. The student's also learn about the history of the track through veteran visits and while on the trek the history is given at all the relevant sites. No interested student is turned away - we cater for all and the program is much more than just a two week walk.